It is safe to say that 2021 is the year of all things Jean Smart; as it probably should be every time Smart graces our television screens. Her two most recent roles, both on HBO, have been the lightning rod of performances to instigate public interest in her once again. Smart's performance on HBO's Hacks as aging standup comic Deborah Vance and mother to Kate Winslet on murder drama Mare of Easttown, have her poised as a contender for a double Emmy nomination for each show respectively.
All things considered, that sounds like the Golden Age of television all over again; except this is Smart's own golden age on television. The resurgence of Smart on the small screen is not a story that's gone untold before. Quite the opposite, actually. Smart's career spans decades, from television all the way to the Broadway stage. In the mid-'90s, Smart landed herself two Primetime Emmys wins for her recurring guest star role as Lana Gardner on Frasier and a Tony Award nomination for her stage performance in The Man Who Came to Dinner. She was once again nominated for two Primetime Emmy awards for her work on television drama 24.
Despite an impressive resume, there was a period in Smart's career where roles became incredibly limited for her. It was quite puzzling how, despite her impressive body of work, Smart couldn't find roles post her stint in Fargo, a critically acclaimed series on FX. "I was very proud of it. But afterward? Not a job offer! Not a one. For over a year. I figured it is because of how I looked, that I aged. I thought you know that, if I was a guy, I would have some job offers," she said during a panel at the Split Screens Festival in Manhattan back in 2018.
Post this lull in her career, Smart is back and working on prestige shows like Watchmen, Hacks, and Mare of Easttown, dishing out some of the most nuanced and compelling performances of women her age. As wonderful as all that may be, including the overwhelmingly positive attention Smart is getting for her recent work, we'd be remiss to not talk about why she fell off the Hollywood map for a while after Fargo. Even if her hiatus was only for a single year, it was not a conscious effort on Smart's own behalf. What is it about women like Jean Smart, who spend their entire careers working hard to elevate their craft, go as far as earning recognition and prestigious accolades, that undergo even a second of no work and propositions?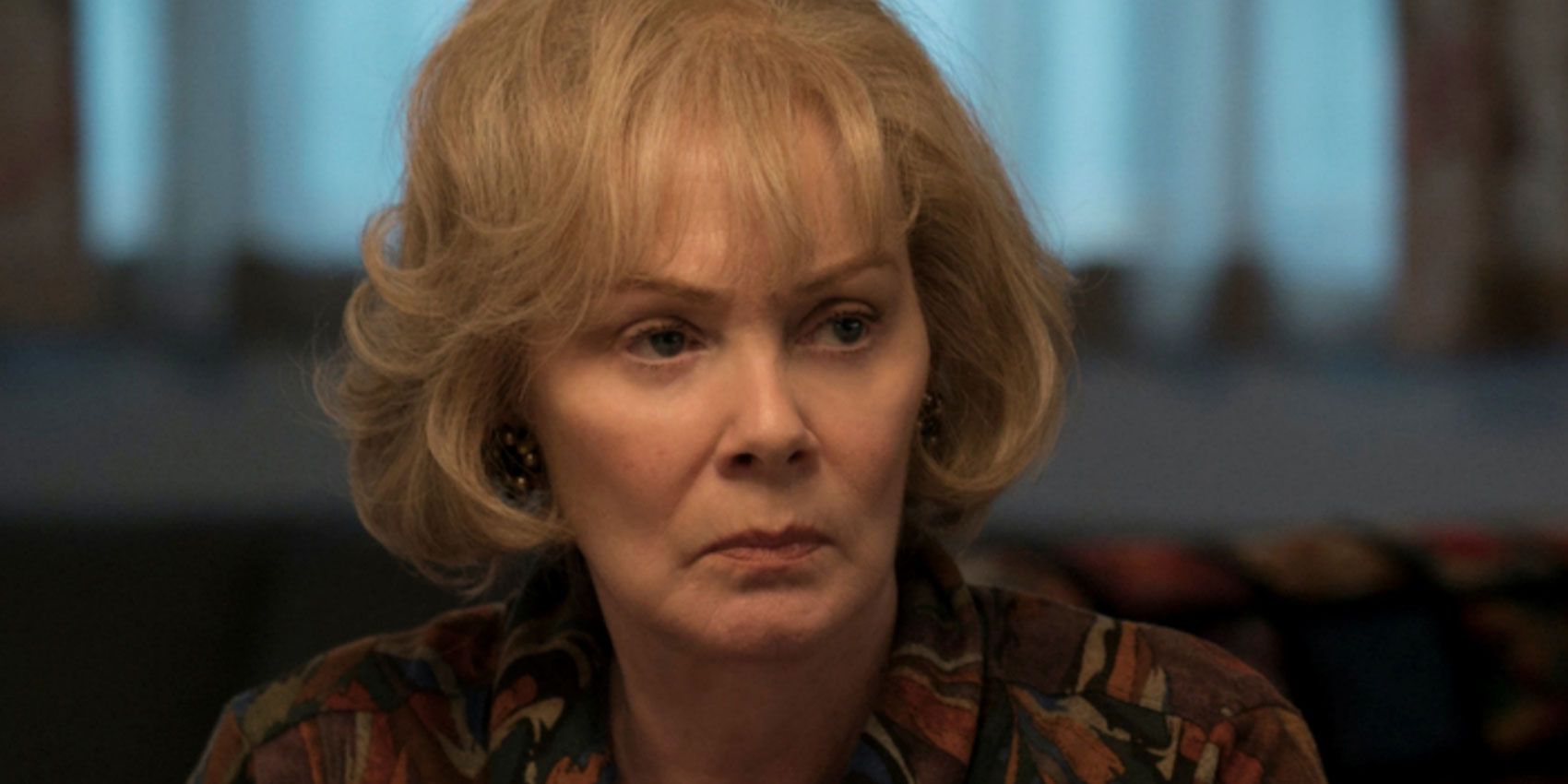 It has to do with Smart's transition from a sex symbol to, god forbid, a woman of a certain age. As much as we celebrate, and should celebrate, her most recent popularity in our media landscape, we should also talk about Hollywood's treatment of actresses as they age. That even with extended bodies of work, their careers are still so incredibly attached to their aesthetic image as objects of desire. Smart is not only exempt from the rule but recognizes that no matter how many awards or critically acclaimed roles she plays, she will continue to fight for her place at the table knowing that male actors have the indulgence, encouragement at times, of growing old and always having the door open for them.
This is not a new conversation to be had necessarily, but it is important to have it in the context of Smart's recent "renaissance" if you will. As you scroll through Twitter and read overly enthusiastic tweets about Smart's two recent roles on HBO, they seem to hint at a larger problem in our culture. Holding women like Jean Smart as tenuous symbols of "icon" that represent something as fleeting as a shooting star, we lose the chance to solidify their presence in our media. Smart's role in Hacks parallels this very idea, as her character was "once" a great comedic icon that paved the way for women in comedy but still has to work hard to maintain her relevance because she is not completely immortalised in the industry.

It is understandable to shower older female actors with praises, especially when it comes from female viewers, and bask in everything that they do. However, as a culture, we get so lost in these empty compliments on social media that we often don't realise how much it contributes to our self-gratifying need for abstract "icons". Their performances often get treated as trends and consequently so do actresses like Jean Smart. They become easily disposable as another new "forgotten" star happens to land an equally dynamic and engaging role. 
It is also not just a matter of becoming a fleeting sensation. These actresses have to overexert themselves over and over again to prove they are still worth the attention and recognition. In contrast, actors in the industry, especially well-known and well-established male actors, have the luxury of extended periods of hiatus from acting or pushing out subpar performances. They are allowed to fail and given that metaphorical space to grow. As they get older, they become invaluable to their work, as they are often perceived to reach their greatest potential as they get older.
Women in the industry become less and less valuable as they age. The very entity and worth of an actress is so heavily coded in their physicality and worthiness of male desire, it's hard to live to those expectations for an entire career. There is no real room for error here. This is what Smart was pointing to in that 2018 panel, after not getting a single job for over a year after her Emmy nominated performance in Legion. It's about female actresses having to work twice as hard to stay relevant in an industry that has no real respect and interest in the lives of older women.
The point is to immortalise these actresses as they age, not when they become convenient images of pop culture to obsess over and then forget again. Smart has been delivering performances of the same caliber as that of Hacks and Legion her entire career, but it isn't until we begin to point out these patterns of dispensability within the industry that we can begin to understand just how undervalued women become after a certain age. How their visibility to an audience is not just (or ever) about their talent, but very much depends on how long they can remain as objects of desire and youth.
Celebrating Smart and discussing how to best do that is not a matter of "right vs. wrong." It is, however, a matter of understanding our own part in upholding these values on age and gender. It is no secret that Hollywood, as structure and system, chews women up and spits them back out as soon as they no longer fit a specific kind of image. I believe we are just starting to undermine that idea, slowly, but with great intention. That being said, I do think we need to continue to examine how we could, unintentionally, let actresses like Smart become empty representations of fads and not really tackle age and gender disparity in the industry.
by Mariana Delgado
Mariana (she/her) is a recent graduate student from the University of South Florida where she foolishly earned a Master's degree in Liberal Arts with a concentration in film studies. Proud mother on one beautiful little schnauzer named Pepe and lover of all things trauma-related theory. When she's not rewatching The Leftovers, she may also be found rewatching LOST as a means to finally understand the human condition one traumatic show at a time. Find her on Twitter.