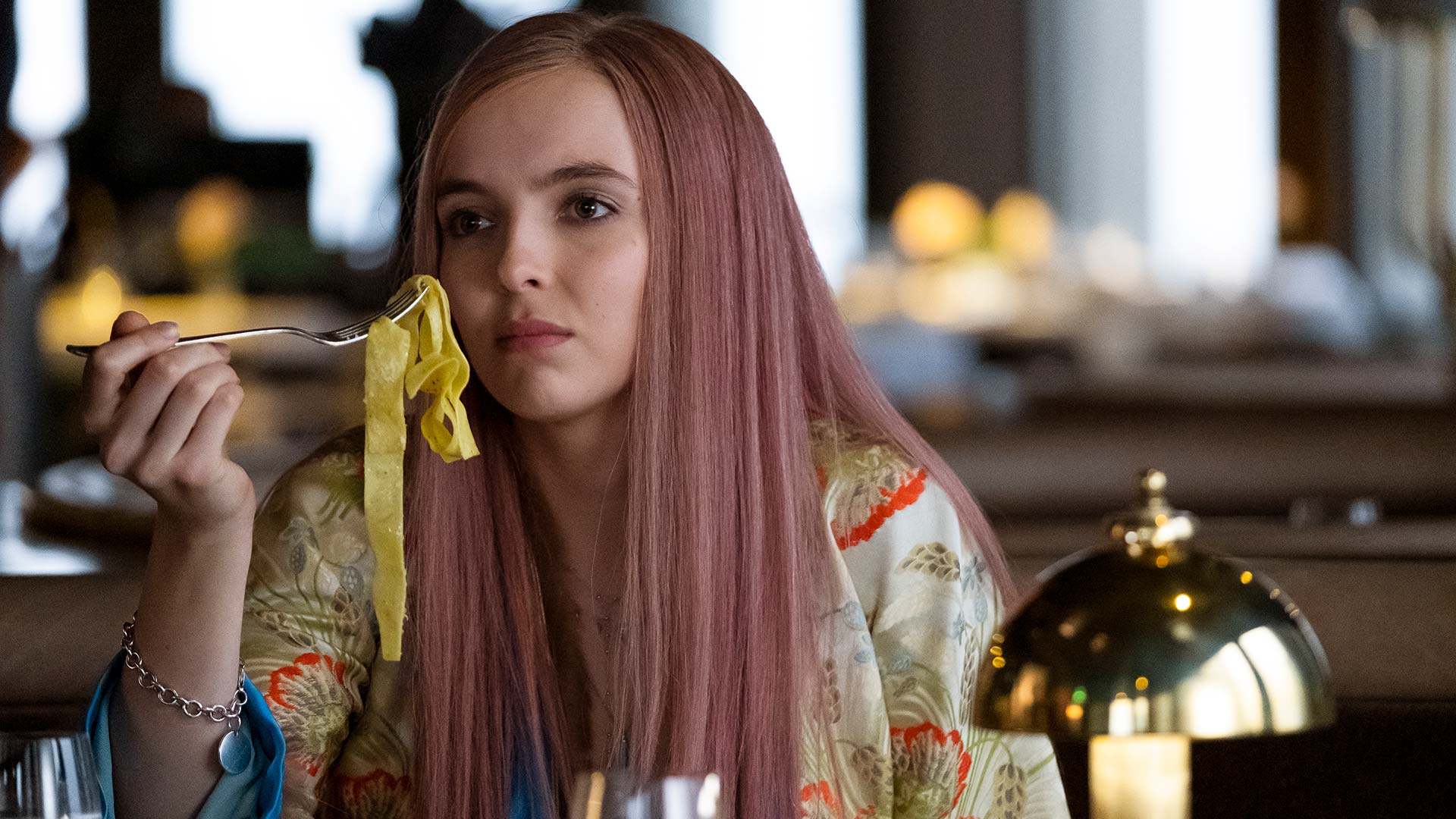 Food is fuel, wouldn't it be easy if it was that simple? Feeding ourselves is probably the most basic bodily function and still we manage to complicate it, weaponise it as a means to cope with sexual burgeoning, to numb guilt, self-soothe and even as a substitute for sex. The idea that women need to have self control to be worthy is one that feeds into the narrative of a woman's appearance being her most important. A woman's presence in film, equal to that of food-as an aesthetically pleasing prop-for the pleasure of men. So, to see women indulging in gluttony, counteracts the fetishised anecdotes that queer women exist for a straight man's erotic consumption.
It's tempting then, to shun Abdellatif Kechiche's Blue Is the Warmest Colour (2013), because of it's exploitive male-gazey sex-scene, but before you do, consider the moments of the film that are there to be cherished for us, it's LGBTQ viewers. Blue provides nourishment in the generous helpings of Adèle (Adèle Exarchopoulos) eating; heedlessly and hungrily, she eats without restraint, with the type of vigour usually reserved for the likes of male characters to showcase their virility. So, seeing a queer girl, twist forkfuls of spaghetti into her mouth, lick the knife clean and lean back with a smile of satiated contentment, feels like a triumph.
Food is the heart of this romance: bulging at the seams with spaghetti, gyros, oysters and meat. The politics of food and sex intangible to the plot, Adèle meets out and proud art student, Emma (Léa Seydoux), who acts as her sexual awakening. We watch as fifteen-year-old Adèle struggles to digest her sexuality; stuffing a whole chocolate bar in her mouth, almost choking, she sobs, an idle attempt to fill the deep pangs of her hunger, a moment that felt almost too close to home.
Adele's guilt fuelled gorge mimics Queen Anne (Olivia Coleman) in The Favourite, we watch her stick her bulging fingers into pastel blue birthday cake, while she alternates between mouthfuls of cake and vomiting. It borders on being vulgar but stops before we can have a chance to look away, a reflection of ourselves in her vulnerability. Eating and sex are both ritualistic activities, it's interesting then that when guilt is also present, we prefer to perform these activities alone, or rather, in secret. The shame in the aftermath of a sugar-binge, or realising homoerotic desires, seeing these moments on screen provides comfort to this discomfort.
"I am not food you cannot just eat and eat", says Sarah (Rachel Weisz) to Queen Anne. The idea that the female body is interchangeable with food, doesn't feel like the usual male objectification, which shows that this problem can be resolved by shifting the gaze ever so slightly, into that of pure female desire, by reclaiming what was made inherently derogatory and championing queer women's appetites, without shame.
There is something radical nestled in the folds of Villanelle's (Jodie Comer) consumption; eating for pure pleasure instead of basic sustenance feels almost daring. Killing Eve's antagonist is likened to the "Hungry Caterpillar" in the show. Queer femme fatale Villanelle admits she eats because she's bored, so bored in fact, that the only time she's not bored is when she's with Eve (Sandra Oh). It's taken three seasons to get a measly kiss, to the dismay of all us touch-starved queers on the internet, but isn't that just the most sapphic thing ever: nothing but intense staring; thoughtful gestures and a long waltz of emotional seduction and connection?
The women wildly consume food in place of each other, Villanelle zealously swallowing every; noodle, spoonful, slice and squeeze, eyes rolling back in her head, a euphoric "mmm" escaping her. The sexual tension culminated from watching them taste; Eve licks her lips and moans with pleasure in between carnivorous bites of greasy-fried chicken, Villanelle throws her head back in ecstasy biting into focaccia, dripping with sun-ripened tomato onto her baby blue blouse. Villanelle leaves Eve a half eaten apple; after all, it was Eve who took the first bite of the forbidden fruit. From the start, food has always been inextricable from desire. Their inner most desires are hinted through food, since their first meeting; a dinner date consisting of microwaved shepherds pie, that Villanelle will later ask Eve's husband for the recipe, a heartfelt attempt for her affection. They consume each other with the same, unapologetic gusto in which, Villanelle crams her overflowing mouth with ribbons of saucy pasta and Eve shovels bon-bons, cola bottles and sour snakes into her mouth, a sweet-tooth she cannot satisfy.
In The Handmaiden, albeit directed by a man (Park Chan-wook), we find a film dedicated to disarming the romantic illusions of the male gaze, exposing it as a malevolent force of objectification and exploitation of women. We see the pervasive con man Fujiwara (Ha Jung-woo), who plans to set up both women Hideko (Kim Min-hee) and her handmaiden Sook-hee (Kim Tae-ri) The enjoyment the women have in food and each other is achieved only in the absence of men, Hideko neatly nibbles on a singular grain of rice. Contrast this with a later scene of Sook-hee alone, in an all female institution, free of expectations, waiting for her lover Hideko to come and rescue her. She appears serene and wild; her sleeves rolled up, blithely chomping on onigiri, she notices a bug in the centre and laughs manically but tucks in anyway, ending with a close up of rice on her face, the disgusting marker of a delicious meal.
The Handmaiden focuses on the sensory experience of eating; enthused sucking of a sticky lollipop; a bite of a soft-fleshy peach, it revels in the homologous sexuality of these foods. Peaches have made quite a name for themselves in recent queer cinema – thank you, Timothée Chalamet – yet in The Handmaiden, the peach holds an amalgamation of meaning. First as a passive object of beauty to be painted by Hideko, which is transformed into an object of erotic consumption; eaten by Fujiwara – who plans to use the women for his own financial gain – ultimately it is his greed, that is his downfall. The women outsmart him and live gaily ever after and Sook-hee's description of Hideko mimics that of a peach: "It's so soft and wet!" The peach as a proxy for female sexuality and how it can be explored and enjoyed when it is freed of the male gaze-confirmation that peaches are the gayest fruit.
Certain foods have a suggestiveness, fruits with a teasing resemblance to sexual organs and acts, in Janelle Monáe's music video for "PYNK" we see a frothing milkshake bubbling over and a finger thrust through a frosted pink donut. The artist Stephanie Sarley pushes prying fingers into the lush flesh of a halved grapefruit, juice gushes out, a celebration of non-phallic sexuality. Reminding of a scene in the film Duck Butter; Naima (Alia Shawkat) and Sergio (Laia Costa) sprawled out, engaged in chatter, their gazes concentrated on the intricate task of eating a mango. Scoring the soft flesh into squares, sucking the juice as it drips down onto their stained sticky chins. Naima dangles the flesh out of her mouth into Sergio's receiving lips, it doesn't feel overly erotic but sweet and tender. Often queer love scenes are burdened with the struggle and torment of gay characters; in contrast, Duck Butter is a fun celebration of two women savouring each other.
It's important to mention LGBTQ films that nourish the soul through the act of one cooking and feeding another. In Portrait of Lady on Fire, we watch Héloïse (Adèle Haenel) and Marianne's (Noémie Merlant) forbidden love for each other burn, slowly and quietly at first, in glances and words and then all at once, with the ferocity of a forest fire. Food adds another dimension to their relationship; a utopia of suspended time, accompanied by the maid Sophie (Luàna Bajrami) the three of them act as a familial unit, something Héloïse and Marianne will never experience due to circumstance of the time.
In the rural and windswept French island where Portrait takes place, it is in the sanctuary of domestic space that their relationship grows. Héloïse and Marianne, both busied with tasks, one chopping and the other pouring wine, Héloïse takes a sip of the wine Marianne has poured her and the two exchange a knowing smile, these personal moments, in the company of others, between two lovers are perhaps the most intimate. Another time, three places are set at the table but only Marianne and Sophie are present, Marianne looks agitated asking after Héloïse. It's such a simple declaration of her love for Héloïse, to miss her presence at the dinner table, sweetly reminiscent of Call Me by Your Name, Elio's (Timothée Chalamet) childish reaction is to insult Oliver (Armie Hammer) when he doesn't show up for dinner, how innocent it is to be angry at the notion of simply missing someone.
Todd Hayne's lingering love story Carol embodies the erotic power of less is more, focusing on these moments of contact or restraint, watching and being watched. In both Portrait and Carol, there's one conversation going on with words and another, completely different one happening between the lovers' eyes. Carol (Cate Blanchett) takes Therese (Rooney Mara) out for a lunch of creamed spinach and poached eggs to say thank you; sapphic to its very core. They yearn, in between sips of martini and intense stares, there's a tension between freedom and restriction, both wanting, liberated by their desire and constrained by their environment. Therese is timid but empowered, we see it in the way she innocently orders the same thing as Carol, trusting her decision over her own. In Therese's naivety and Carol's experience, neither one fits neatly as prey or predator, but both actively consume each other with equal thirst.
Along with the rest of its complexities; food stirs up a sentimentalism, we aren't just watching them eat, we're remembering, unlocking memories of our own, an orange segment shared in a lazy summer or a meal eaten in a little Italian, as the staff packed away chairs around you, of past love.
by Natalie Carmichael
Natalie is a Creative Writing student in her last year at the University of Hull, aspiring staff writer and screenwriter. A writer of words, and lover of films. Her favourites include anything by John Waters, The Handmaiden, The Lost Boys and you can always find her talking about the food scenes in Phantom Thread. You can find more in the form of essays and blogs on her WordPress blog, or for more informal pieces on Letterboxd as damageheather. You can follow her on twitter @natcarmichael_